Are you ready to finally choose you?
Complete the form below to get started with your empowering boudoir and glamour experience.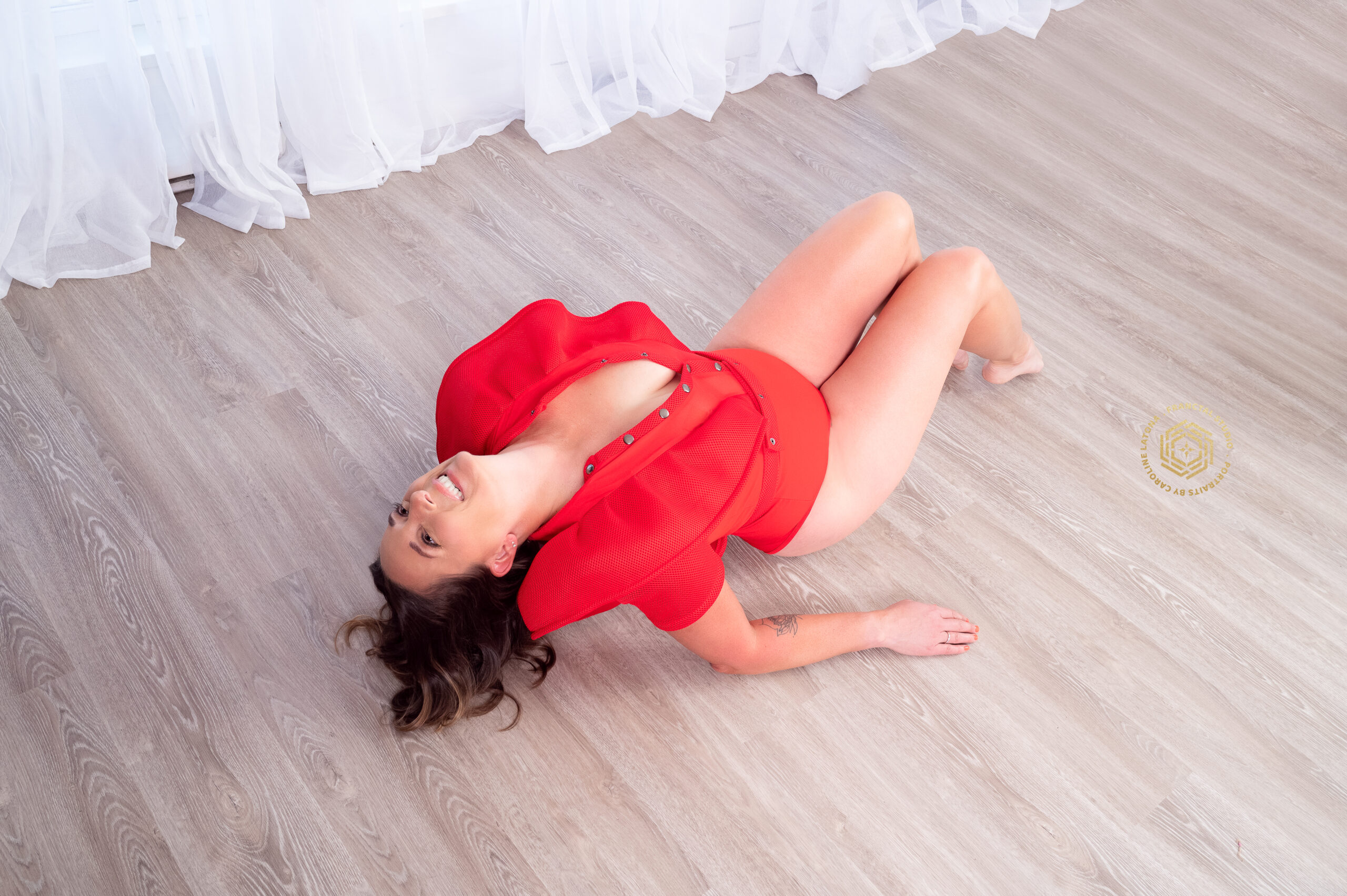 A boudoir and intimate portrait experience at my  Langley BC studio is designed to boost your confidence with professional styling, flattering lighting and easy poses to bring out the best in your figure. You will feel empowered, confident and proud of who you are. The luxurious experience is all about you, and we will be sure to pamper you with hair & make up, a glass of bubbly and time for you to celebrate and focus on yourself.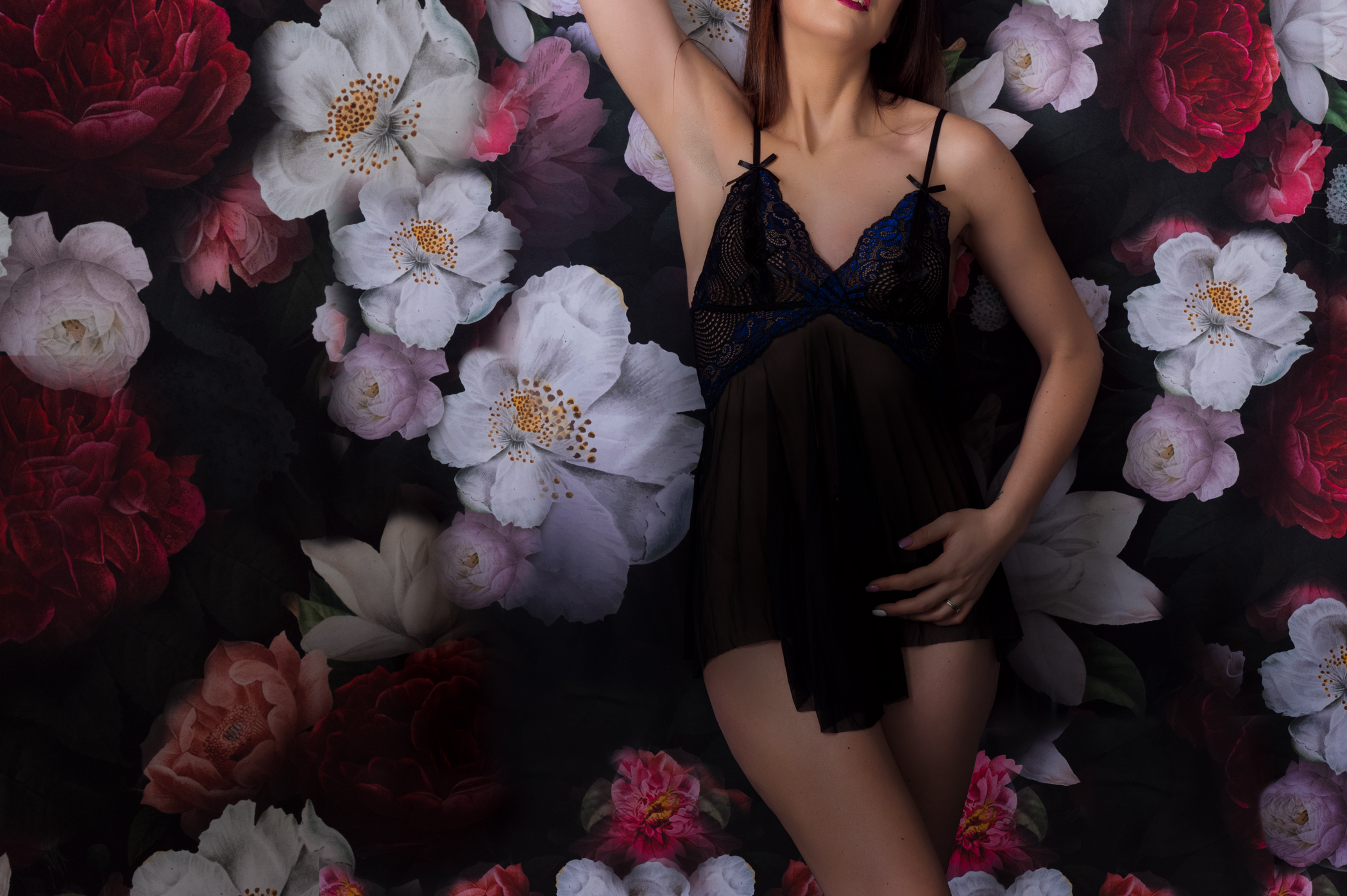 HERE'S WHAT IS INCLUDED IN OUR BLACK FRIDAY SPECIAL
❤️A DESIGN CONSULTATION where I will take you on a journey to get to know you and plan your portrait experience to reflect you and your personality
❤️ Complete Pampering with ​PROFESSIONAL HAIRSTYLING & MAKE UP ARTISTRY
❤️Creative Portrait Session with FULL GUIDANCE ON POSING and styling. I don't expect you to be models. I will help you look good for the camera.
❤️Full ACCESS TO OUR LARGE STUDIO WARDROBE and ANGEL WINGS
❤️PRIVATE INSTANT REVEAL  of your portraits where I will assist you in the selection and customization of your artwork that will bring life to your home
❤️Your choice of prints, gorgeous albums and wall display pieces of your choice (all ordered separately).
❤️A CUSTOM MOBILE APP  pre-loaded with the digital versions of your ordered photographs
❤️ Your personal HYPEWOMAN and Photographer

TOTAL VALUE $875
 BLACK FRIDAY: $99
Only 15 spots available for the Holiday Special
YOUR ULTIMATE BOUDOIR EXPERIENCE IS AS EASY AS 1-2-3
The first thing you need to do is click the button below. You can either choose to BUY NOW and rest easy, knowing you got the spot or Complete the form, if you have questions. Choose the option that most serves you and Caroline or Tayler (Studio Manager) will give you a call to schedule your session. We're always happy to answer any questions you have at this time.
We will contact you within 48 hours of submitting your form or buying the special. We will take the time to get to know you so we can create befitting portraits that celebrate who you are! You choose your style of portraits: glamour, boudoir or everything! We will talk about your final display options, pricing and even our popular flexible payment plans.

Having photographed so many ladies from 21 to 81, from size 6 to 26, we know how to make this a fun experience you will never forget. So breathe, relax and trust that we have everything under control. Your session will be effortless, fun, and the best thing you did for yourslef in a while. Immediately after your session, you'll have your personalized ordering appointment. We always have lots of tissues handy for this experience.
Go ahead and get that deal! We will call you to go over the process in details & answer your questions. If you choose not to proceed at the end of this call, we will refund you, no questions asked.
Feeling nervous and prefer to speak with a human first? We've got you! Go ahead and complete this form and we will be in touch within 48 hours
What does your portrait investment look like?
Finished portraits are available in sizes and styles for a variety of tastes and budgets – and you choose how much you spend on the portraits you love. And with each artwork you order, the digital version is included at no extra cost.Most of our clients invest in mini-albums starting at $750, other portrait collections and luxury albums beginning at $1890, and Wall Art Pieces starting at $750. We only love the good kind of surprises too, so you will know exactly what fits your taste and budget before your session.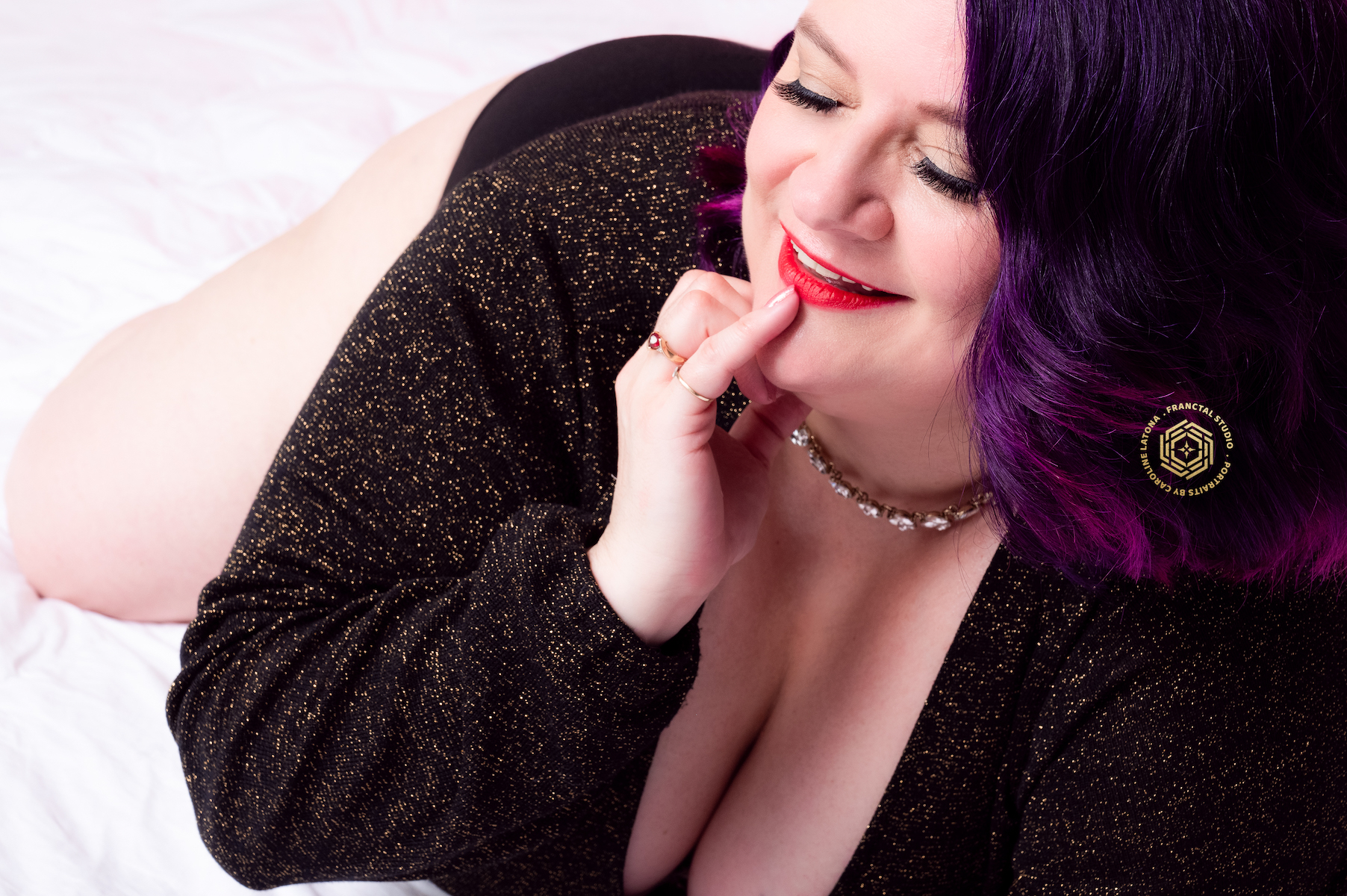 Who are the ladies featured on your website? The women in the gallery are clients, not professional models. Most had never had a professional portrait experience before and all of them were anxious when they booked, but they were thrilled with the results and kindly gave us permission to share their favourite portraits with you.
Am I too old/curvy/skinny for  boudoir? No! Any woman over 21 years old can book a boudoir session. I have been photographing women of all ages, shapes and sizes for almost 10 years and will tailor your portraits to suit your style, figure and personality.
Is makeup and hair styling included? Your session starts with makeup and hair styling with one of our professionally trained, experienced makeup artists who will ensure you look and feel amazing before you create your gorgeous photographs.
How will I know how to pose? I will direct you throughout the session, demonstrating each  pose and helping you get into position. Don't worry, all the poses are designed to be simple but there will be a lot of arching, twisting and extending to get the best out of every photo.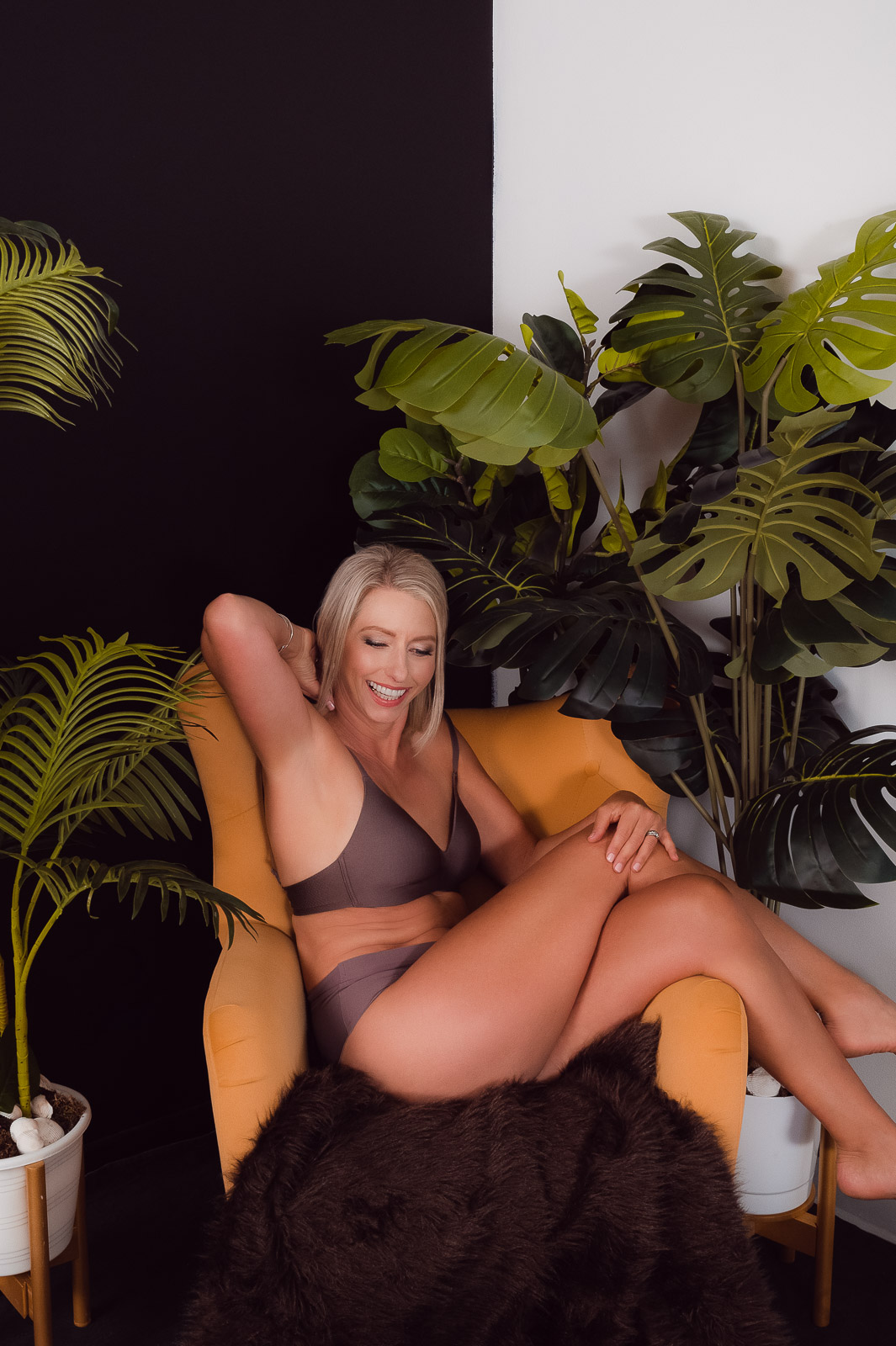 what other women are saying
Caroline was wonderful to work with. She understood the look I was trying to achieve and helped me get through my insecurities never having done this before. She used her skills and expertise in getting the best shots that I wanted to capture in my Glamour Session . She gave me confidence and provided a professional portrait session.
Having now seen all my photos, I was surprised at how much I love them .
It was a great self esteem building experience.
Thank you Caroline.
Totally recommend this to everyone!
This was an amazing experience!! Felt so nervous and unsure but when I saw them after I literally said "who is that?!?" I didn't think I could ever look and feel this beautiful! Caroline was amazing every step of the way. Very informative and know what she is doing!!
I have never liked myself in photos, so when I saw this opportunity, I realized I needed to jump out of my comfort zone. If Caroline had photographed others who weren't photogenic, then perhaps she could capture my personality and inner beauty. She did not disappoint. From the first moment I met Caroline, she was warm, friendly and accepting. I instantly felt at ease with her. The photo shoot was amazing! It's been a long time since I've done anything just for me. From hair and make-up to my favourite playlist to awkward poses, Caroline made the day fun and relaxing. Of 180 photos, I narrowed it down to 60! Wow, I wasn't expecting to like any of them (because of me, not because of her talent).  I highly recommend Franctal Studio.
frequently asked questions
Where will my session take place?
Most of our clients love the convenience of scheduling a studio portrait session in my gorgeous Downtown Langley studio at 20238 Fraser Highway, Unit 406, Langley BC. We will hold a few exclusive spots for outdoor boudoir experience in May, June and July of 2023. Yes you can use this special towards that too.
How much should I be looking to spend?
Everyone is different and ultimately, it's up to you how much you want to invest in your memories. We do not sell packages – you order only what you love and need. Most clients spend $1k plus on their gorgeous art pieces. Our studio is well-known for the gorgeous art pieces we create. Mini-albums start at $750, Portrait Collections and Albums begin at $1890 and Wall Art pieces start at $750. It's so great because it's super easy to get everyday enjoyment from a piece of art on the wall or smaller pieces that are just as stunning and are perfect for little nooks and crannies around your home, such that you are constantly delighted and reminded of such a fun time.
How far in advance should I book my session?
It's never too early to get on the books.  Your session will be scheduled at your convenience and since we run a boutique experience, we're typically booked 3-6 weeks in advance. For the black Friday Special, you can schedule your session in the available spots of 2022 or anytime in 2023.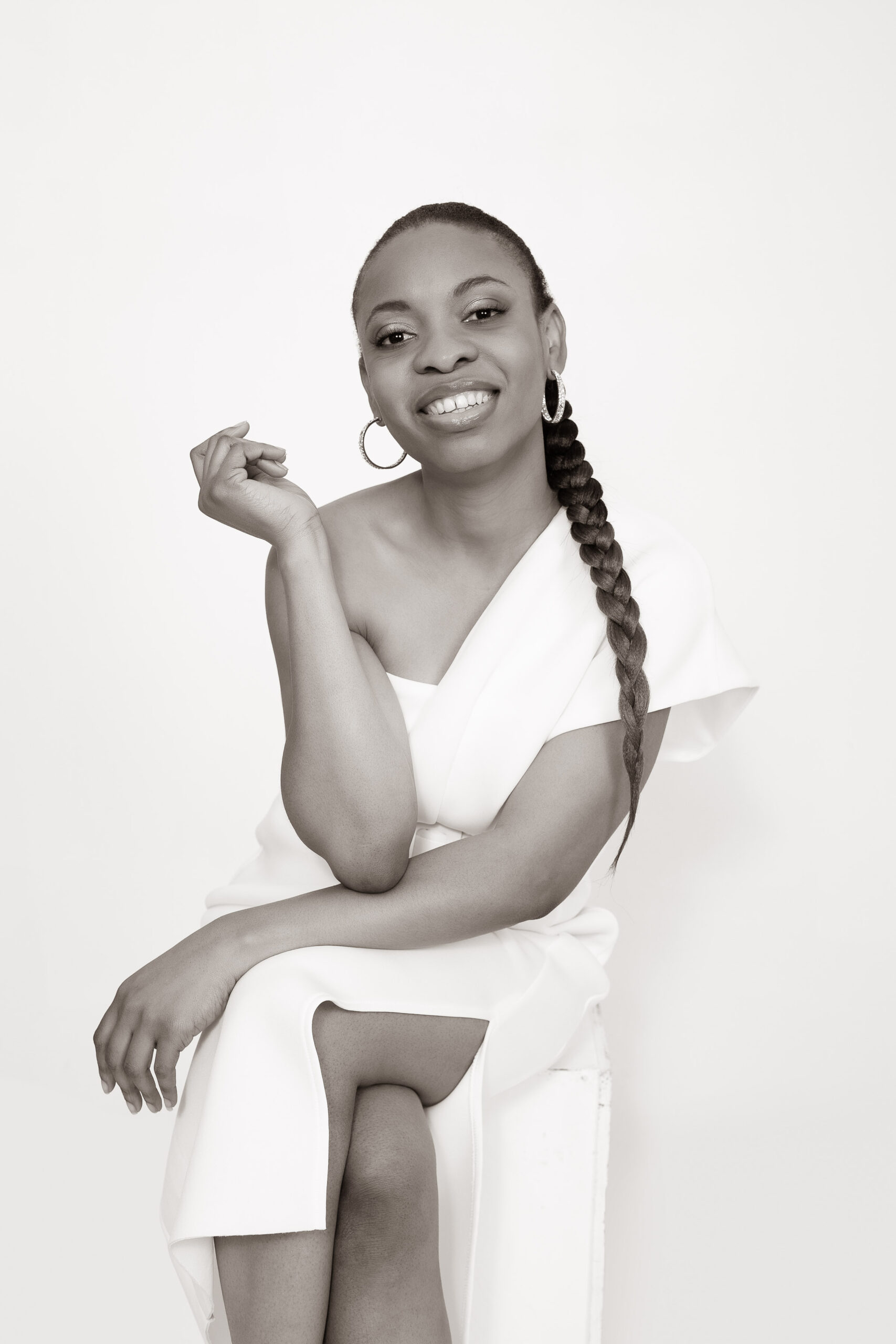 Would you believe it if I told you that 100% of all our clients are pretty nervous before trying a glamour/boudoir session? That is where me and my team come in. We're here for you every step of the way. I will help you feel and look your best.

You might be thinking that you don't like your photos taken, or that you're not photogenic. That's ok. My promise to you is an easy, relaxed and fun-filled portrait session with an experience you will not forget.
It is my job to support you throughout your portrait session and help you achieve your goals and create the most gorgeous confidence portraits of you in art pieces that last for a long time to come.
I could tell you all about being an award-winning photographer. What I really do is to hold space for you to be everything you desire and deserve to be. I completely understand that our brains don't do a great job of remembering – remembering to let you know that you are worthy, you are beautiful, you are a goddess, you are a total badass, and you're so deserving of everything good! So that's my job – to help you remember all that you already are, and to help you to be remembered. I really mean it when I say you already are all those things – I am only here to show you and your loved ones.
?So I invite you to a transformational portrait experience that helps you see yourself as your best self, just as your loved ones see you.